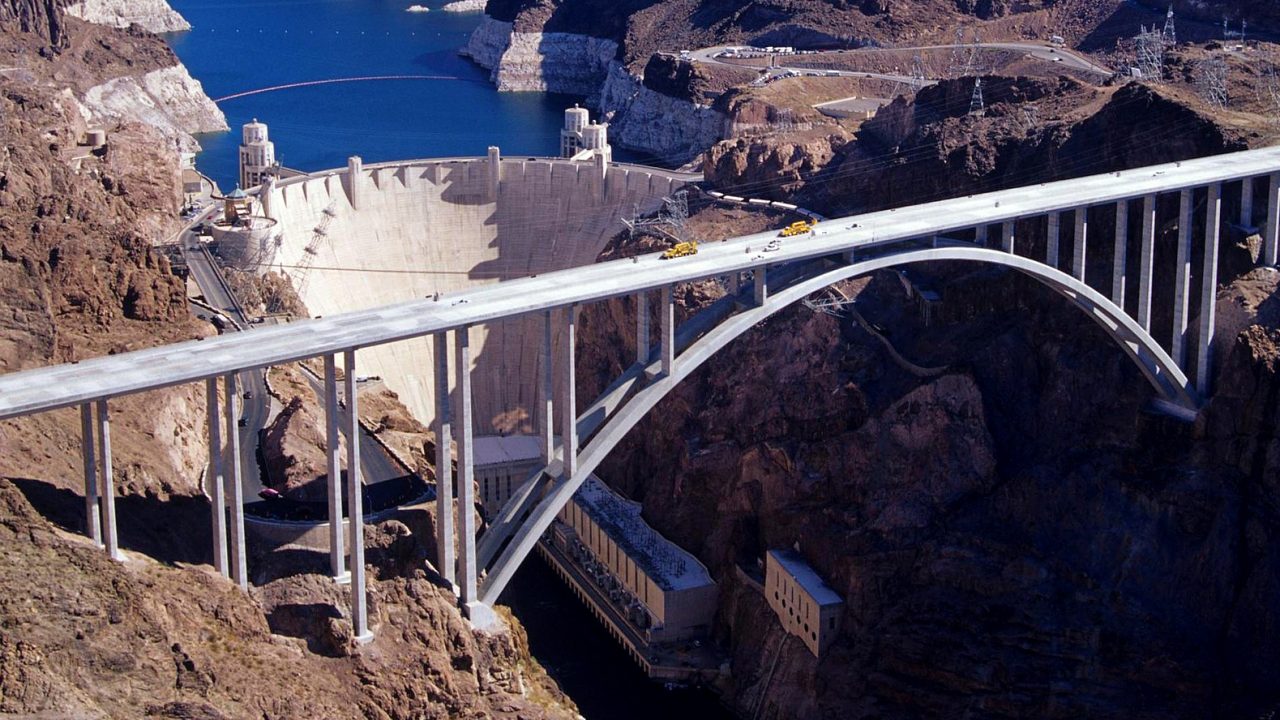 Our Contributions These Past 20 Years | The Mural
A Mural of Innova's 20-Year Impact
Innova Technologies is commemorating a remarkable milestone: 20 years of success! To mark this special occasion, we collaborated with the exceptionally talented local artist, Juan Ochoa (IG: @Latin.Artist), to create a captivating mural that showcases some of the incredible projects Innova has been involved in over the past two decades.
Juan Ochoa's artistic brilliance shines through as he brings to life the essence of each project on the mural. Each artwork represents a distinct undertaking that Innova Technologies has contributed to, and we invite you to delve deeper into these projects by simply clicking on any of them. By doing so, you'll be able to explore the specific contributions Innova has made to these remarkable endeavors.
If you haven't had the opportunity to witness the mural in person yet, come to 1432 S Jones Blvd, Las Vegas, NV 89146 and experience the vibrant celebration of our 20-year journey through the visionary lens of Juan Ochoa's artistry. The mural serves as a testament to the hard work, dedication, and innovation that have been at the core of Innova Technologies throughout our remarkable history.

Carlos Banchik, Founder and President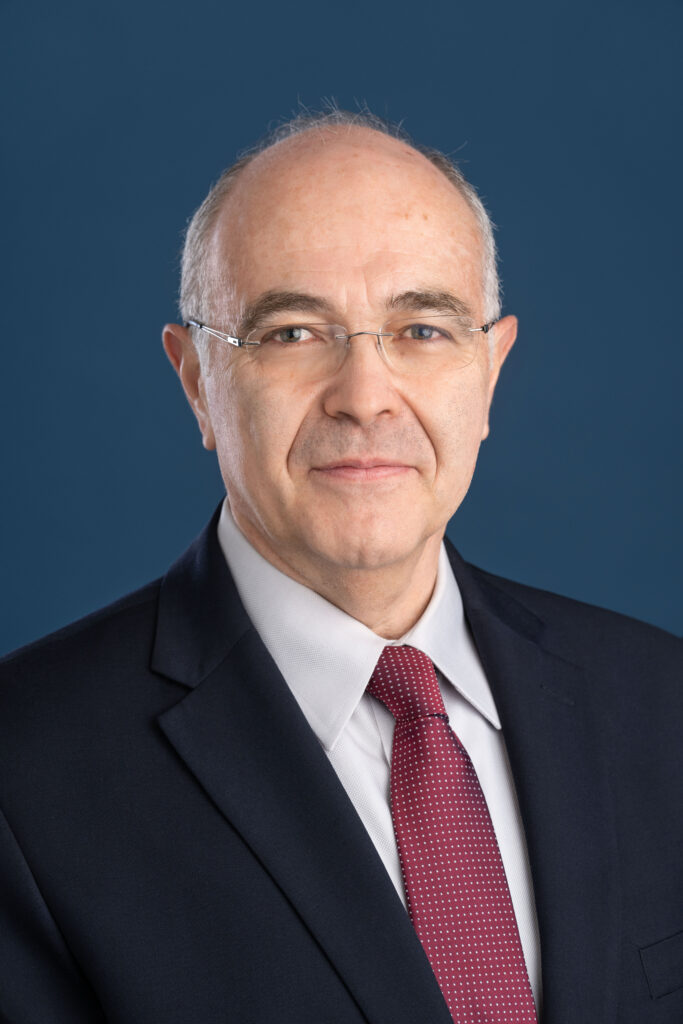 Carlos Banchik, P.E., founded Innova Technologies in 2003. He brings 34 years of experience in numerous transportation systems, earth retention, drainage, and building structures. Through his work at Innova, Mr. Banchik has worked on hospitality, commercial, health, residential, and educational projects.
Las Vegas Raiders Allegiant Stadium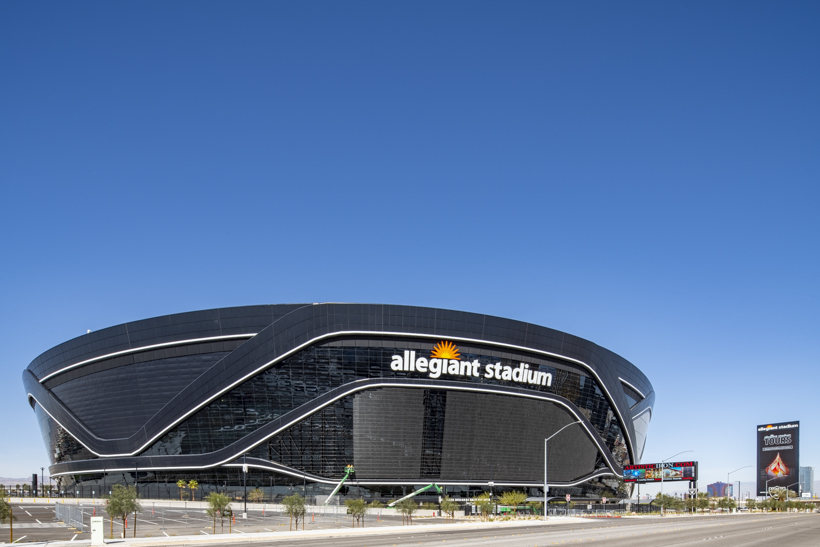 Innova Technologies and Union Erectors collaborated with Prismview and Summit Swing Stage to create and install a cutting-edge video board, measuring 365' long x 80' tall, on the east side of Allegiant Stadium. Union Erectors and Innova were responsible for developing a structural frame to support the video board from only 27 pre-set locations. A further challenge was ensuring that the frame fit within a decorative eyebrow feature projecting about 30" from the building facade, placing it just 4" away from the glass.
Additionally, Innova undertook the design of 31,123 ft of railings for Raydeo Enterprises, Inc. at the Las Vegas Raiders Stadium. The project encompassed the structural design of the railings, their attachment to the support structure, review of shop and erection drawings, and construction support. The railing types included Cable Rails, Drink Rails, Aisle Rails, and Glass Rails.
Hoover Dam Bypass - Arch Form Verification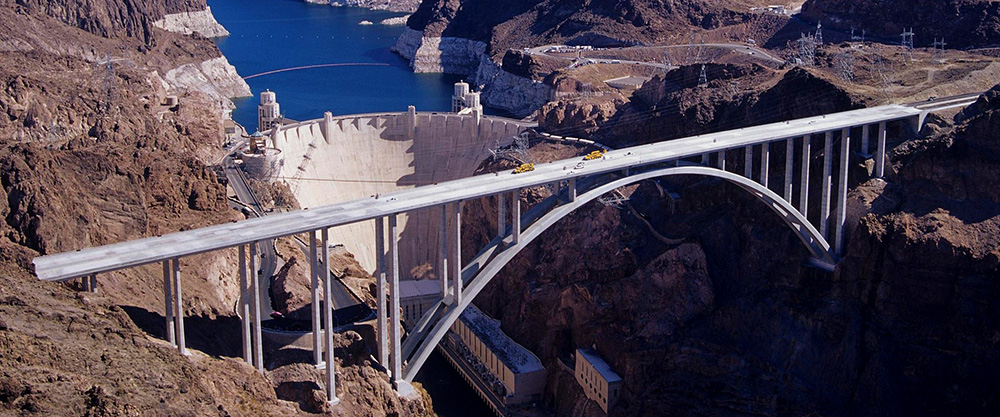 This signature bridge spans the Black Canyon (about 1,500 feet south of the Hoover Dam), connecting the Arizona and Nevada approach highways nearly 900 feet above the Colorado River. Innova provided third party independent services to NRS-Asia, verifying the adequacy of the flying form traveler used to cast the concrete arch structure.
Las Vegas Boulevard Gateway Arch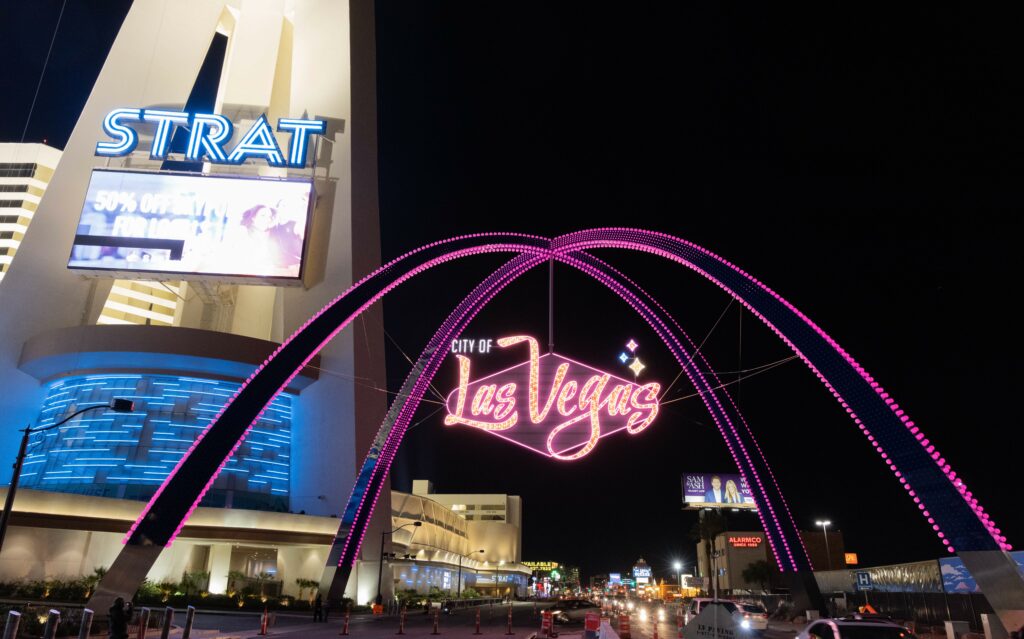 The crossing arch structures, towering at 8- feet, form the arch situated adjacent to the entrance of the stratosphere resort, across Laas Vegas Boulevard. In collaboration with YESCO and Las Vegas Paving, Innova was involved in the design-build team responsible for the proposed Gateway Entrance sign in downtown Las Vegas.
Resorts World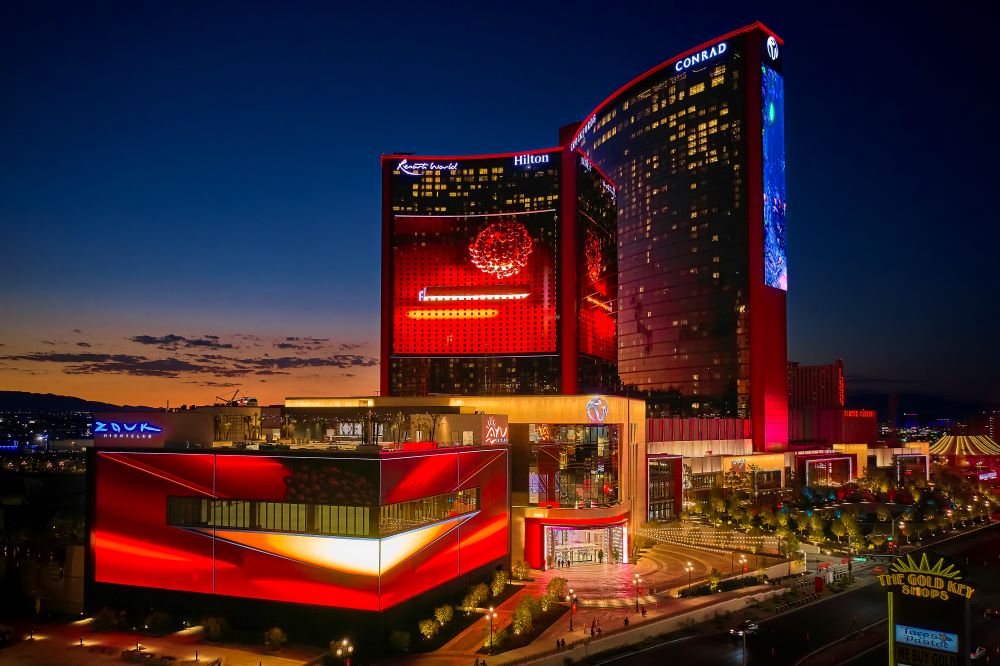 Innova Technologies was tasked by Southwest Steel to collaborate in development of temporary work platforms to assist the iron workers to safely access overhead work on cantilevered portions of the elevator tower framing, various stair systems in the podium, and the design of a tiered planter structure paralleling the curved stair on the pool deck level.
São Paulo, Brazil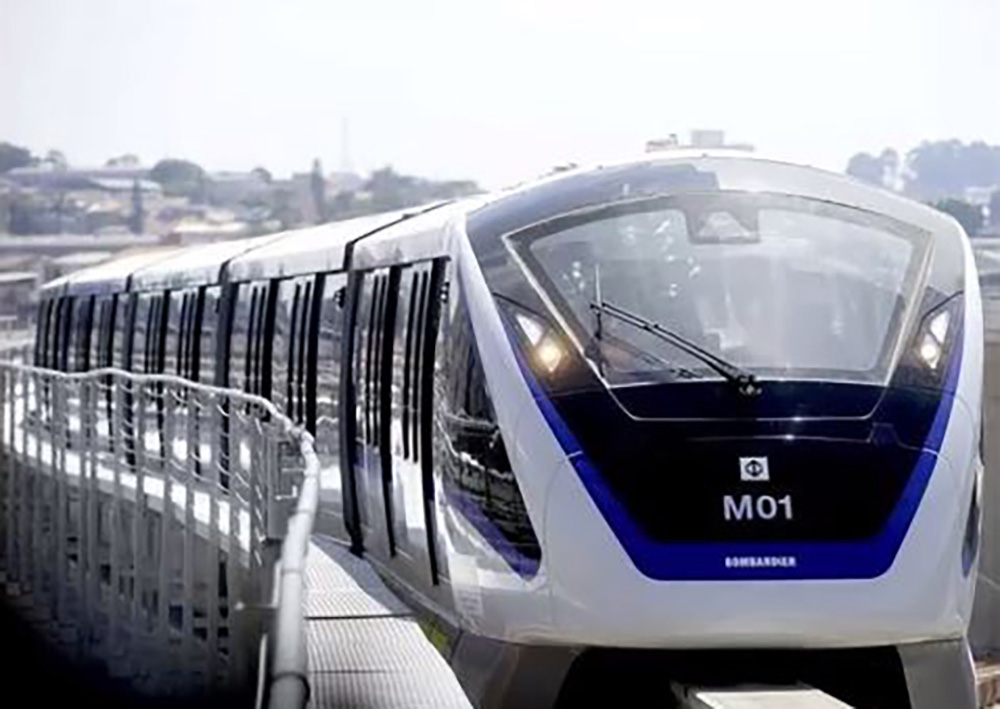 São Paulo Monorail, Silver Line 15
The completed portion of the São Paulo Metro Monorail Line 15 (Silver Line) is 13 km (8 miles) and includes 10 stations. The final project between Ipiranga and Hospital Cidade Tiradentes will be 26 km (15 miles) long with 18 stations, two maintenance facilities, and numerous switches for the operation of the train.
Our Innova Transportation team successfully delivered comprehensive civil-system coordination, design, and shop drawings for the Sao Paulo Monorail, Silver Line 15. Our expertise in precast concrete construction was utilized to create guideway beams that serve as both the structural element and riding surface for this modern transportation system. Despite the challenges posed by a highly urban environment, cast-in-place concrete columns and caps along the alignment were successfully erected. Safety is always a top priority, which is why emergency walkways along the entire length of the system were added, including elevated platforms for emergency egress from the vehicles if needed.
City Center - Artwork Rigging and Erection

In summer 2009, Aria was nearing completion and one of the final items to be installed was a 50,000-pound marble sculpture that is located outside, between the main check-in desk and the entrance to Crystals at City Center shopping plaza. The three-piece sculpture needed to be transported using a gantry crane over 100 feet from the main drive circle to its final resting place, across a structure designed for only pedestrian traffic. Innova provided shoring, rigging, and sequencing designs to transport five planter boxes and protect the structure during the delivery and installation process.
Cosmopolitan Hotel and Casino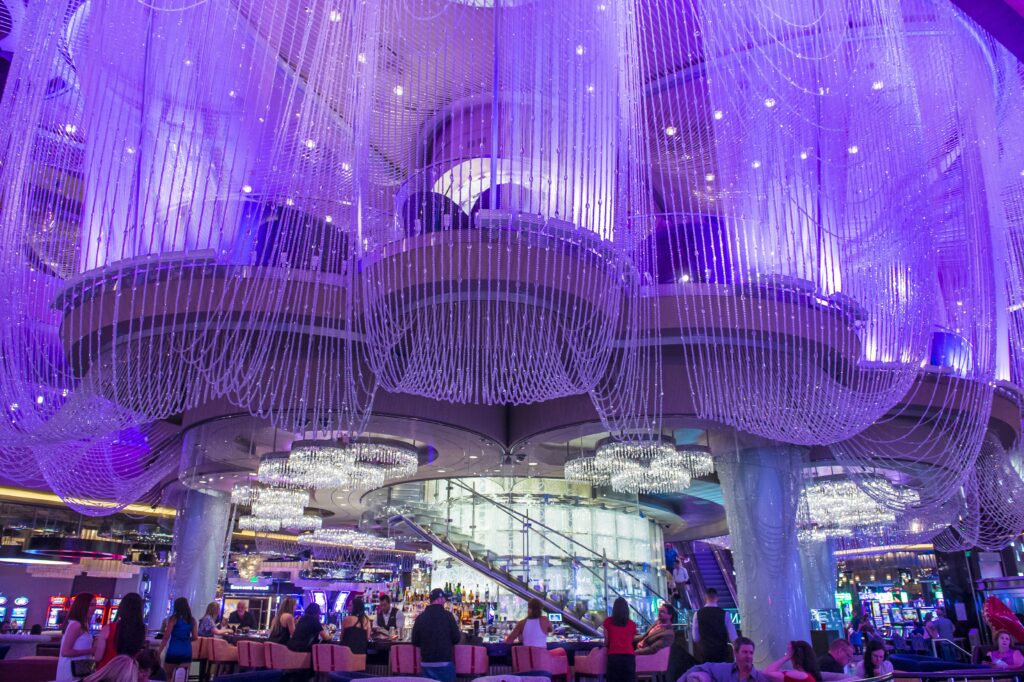 Throughout the Cosmopolitan Hotel & Casino, there are multiple chandeliers and light structures. Innova provided designs for the structural support of several casino ceiling sections throughout the casino saving the constructor and owner hundreds of thousands of dollars by innovative engineering combining structural elements. We also devised a system to install the light fixtures in the field at their exact locations.
Additionally, Innova provided structural design for the highly themed Northeast Corner Bar and Feature Bar, casino expansion of lobby, registration areas, and restaurant areas inside the Cosmopolitan.
MSG Sphere at the Venetian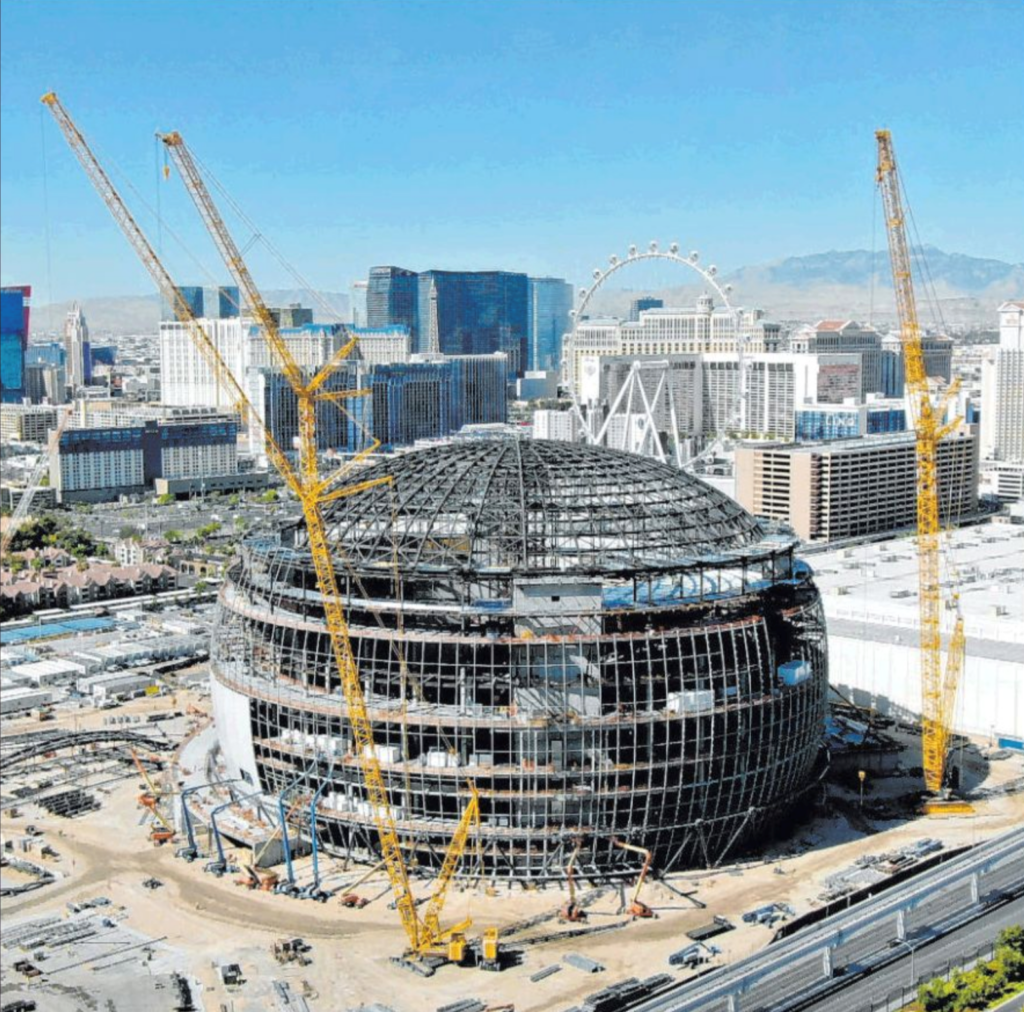 Innova works with W&W Steel Erectors and Southwest Steel to develop work platforms and provide engineering for miscellaneous and ornamental metal packages. For 2 years, Innova provides rigging, pick geometries, and modifications for constructing catwalk structures and boom lifts.
High Roller Observation Wheel at the Linq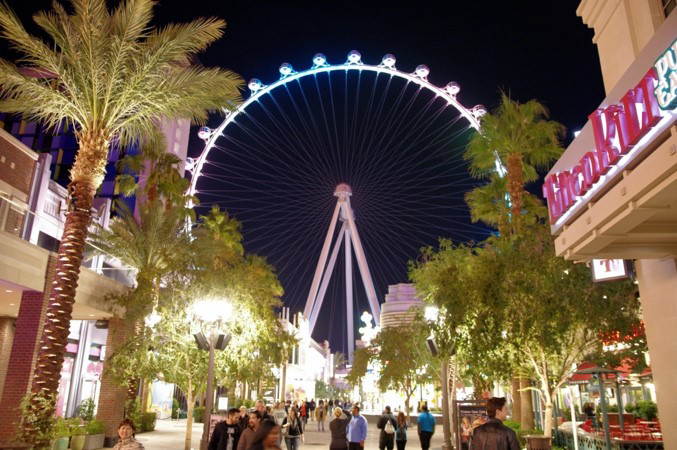 The High Roller is a 550-foot tall, 520-foot diameter giant ferris wheel on the Las Vegas Strip.
This project consisted of shoring and falsework design for the foundation. Innova provided this to the contractor in addition to 3D coordination of all trades and assisted with the development of the engineered erection plan to set the anchor bolts and rebar for the five-column piers that support the wheel. The project was completed in 2014 and is the centerpiece of the popular, world-class mixed-use development.
Adriana Gonorazky, Sr. Vice President
Mrs. Adriana Gonorazky, P.E., S.E., brings 36 years of experience in numerous types of building projects. Since joining Innova in 2006, Ms. Gonorazky has provided her assistance in scheduling projects, dealing with clients, and providing independent quality assurance to building projects predicated on her knowledge of building codes, and local amendments.
Riyadh, Saudi Arabia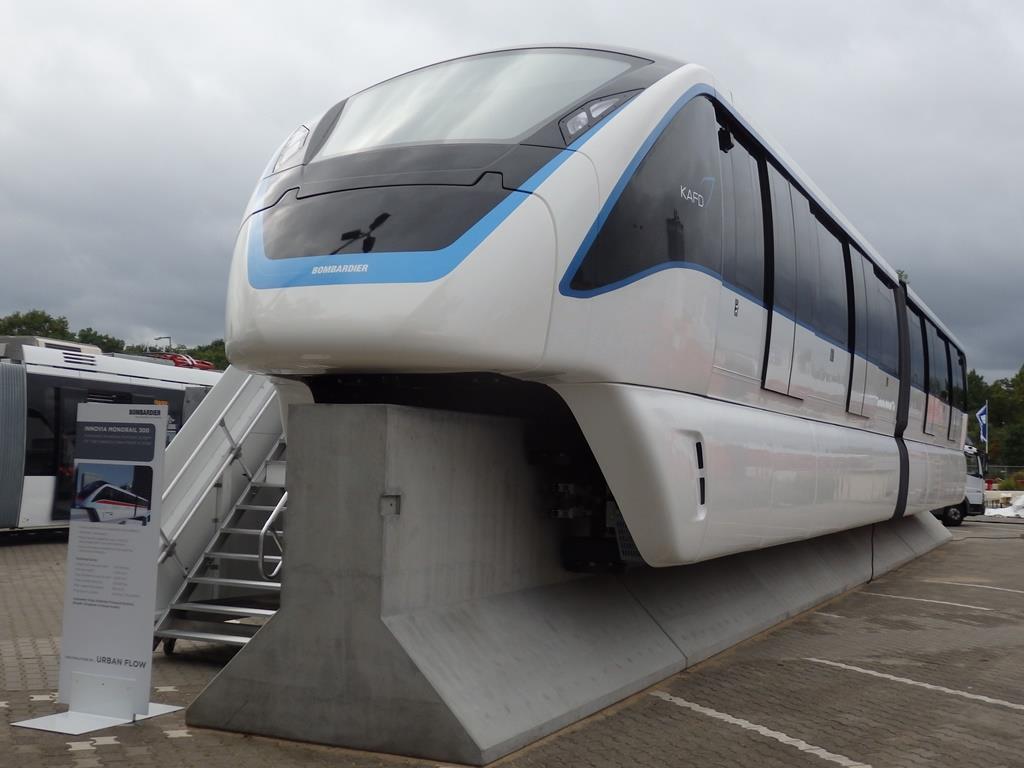 King Abdullah Financial District Monorail
Innova performed an assessment of the project for long span beams and emergency walkways for the contractor, Saudi Oger Ltd.
Cairo, Egypt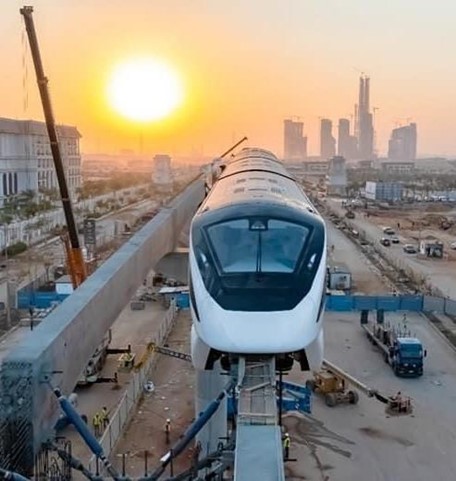 Cairo Monorails New Capital Line and 6th of October Line.
The metropolitan area of Cairo is adding a 100 km new monorail system to the transit systems in the city, making it the world's longest monorail. Two lines are currently in design-build with a 44 km line from Giza to the 6th of October City west of Cairo, and another 55 km providing a connection from Cairo to the New Capital City east of Cairo. Innova is responsible for the alignment design, and structural design of the guideway superstructure, pier caps, columns, steel emergency walkway, switch structures, and construction assistance with precast operations and erection. There are 3300 spans, 900 structures, 16 switches, and 35 stations. The emergency walkways will be installed along the entire length of the guideway with numerous cross-over bridges and stairs to stations and the ground. The two alignments were awarded in 2019 after many years of effort with a team consisting of Bombardier, Arab Contractors, and Orascom Construction.
Santiago, Dominican Republic
Santiago de los Caballeros Monorail
The Monorail of Santiago de los Cabelleros will be established as a structuring axis for the metropolitan area of the city. The monorail is part of the Sustainable Urban Mobility Plan (SUMP) for the reform of public transport at the national level. After studies were established by the Comprehensive Plan for Sustainable Urban Mobility of Santiago, prepared by the Development Council of Santiago, and feasibility study prepared by the Office of Development of Urban and Interurban Mobility Projects, plans to build the monorail began.
Bangkok, Thailand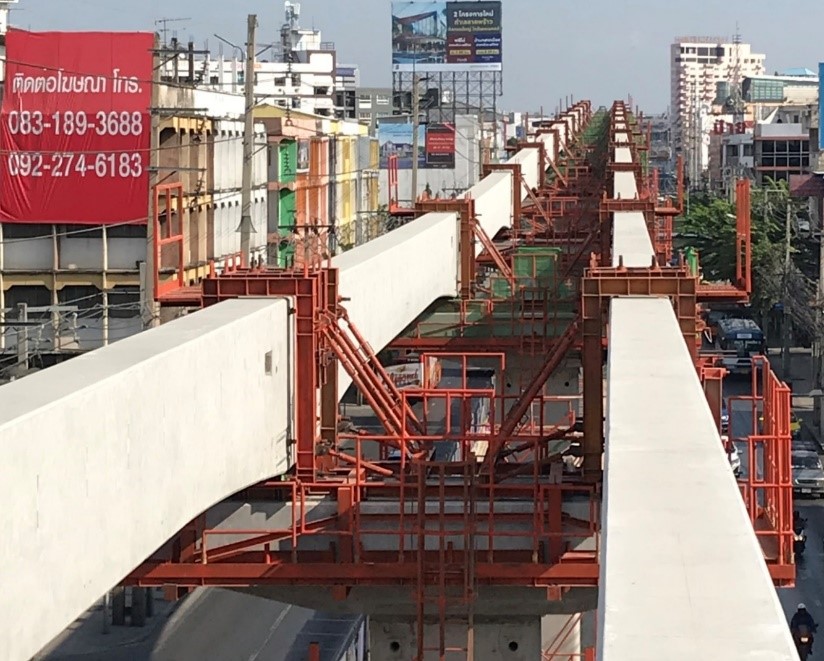 Bangkok Pink and Yellow Line Monorail
The Bangkok monorail consists of two lines with a total length of 64.5km (40 miles) through highly congested urban environments. The Yellow Line runs east of Bangkok in a north-south direction. It is about
34.5 km (21 miles) long, with 23 stations and one depot. The Pink Line runs north of Bangkok, in an east-west direction. It is about 30 km (18 miles) long, with 30 stations and one depot.
Innova Transportation is the US-based international monorail consultant that provided technical assistance and delivered quality control of guideway precast beams fabrication and installation for the Owner of the project, Bangkok Mass Transit System, BTS. Construction began in 2018, ending in 2021.
The Santiago Monorail will be the first in Central America and the Caribbean and will be managed through the Office for the Development of Urban and Interurban Mobility Projects. The monorail will connect the main destinations, benefiting more than 501,094 direct users who will experience a reduction in transportation expenditure, saving travel time and improving the quality of life and the environment.
Providing mainline and depot alignment and profiles,   structural designs,  emergency walkways,  beam shop drawings,  and construction observation as the prime civil designer for the construction of a  15  km 14-station monorail operating under fast-track authority.
Las Vegas, Nevada

After the project was commissioned, and after starting, Innova had been involved in numerous tasks in support of planning for potential expansions of the Las Vegas Monorail as follows:
Expansion to the airport studies using two different alignments. The alignment work required interaction with McCarran International Airport and its planning staff.
Expansion to the west side of the Strip to a potential new resort west of I-15.
Expansion to the north to the city of Las Vegas.
In addition to the Las Vegas Monorail, below is a list of US monorails and people movers Innova has provided support services to:
I-405 Monorail, Los Angeles, CA. Alignment and preliminary structural engineering for a 21-mile alignment along the I-405 corridor from LAX Airport to the San Fernando Valley as a part of a design, build, operation, and maintenance team.
Miami Beach Monorail, Miami, FL. Alignment and preliminary structural engineering.
Inglewood Monorail, Inglewood, CA.  Provided preliminary alignment and structural recommendations.
Montgomery County, MD. Alignment and conceptual engineering support to the High Road Foundation for a monorail project along I-270.
Seattle Monorail Proposal. Assisted Bombardier and AECOM with the structural design work
Nuevo León, Mexico
Monterrey Monorail
Innova will be providing services for the Monterrey Monorail, the first urban train on monorail in Mexico.
Juan Ochoa, The Latin Artist LLC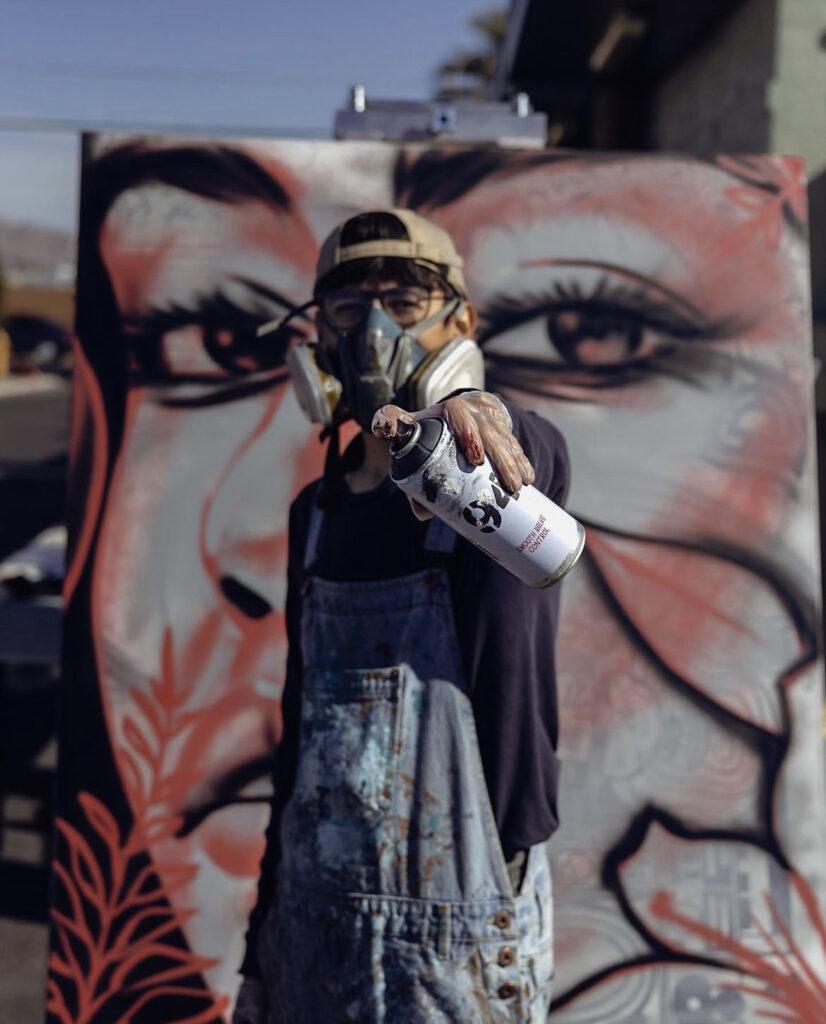 Juan Ochoa, The Latin Artist LLC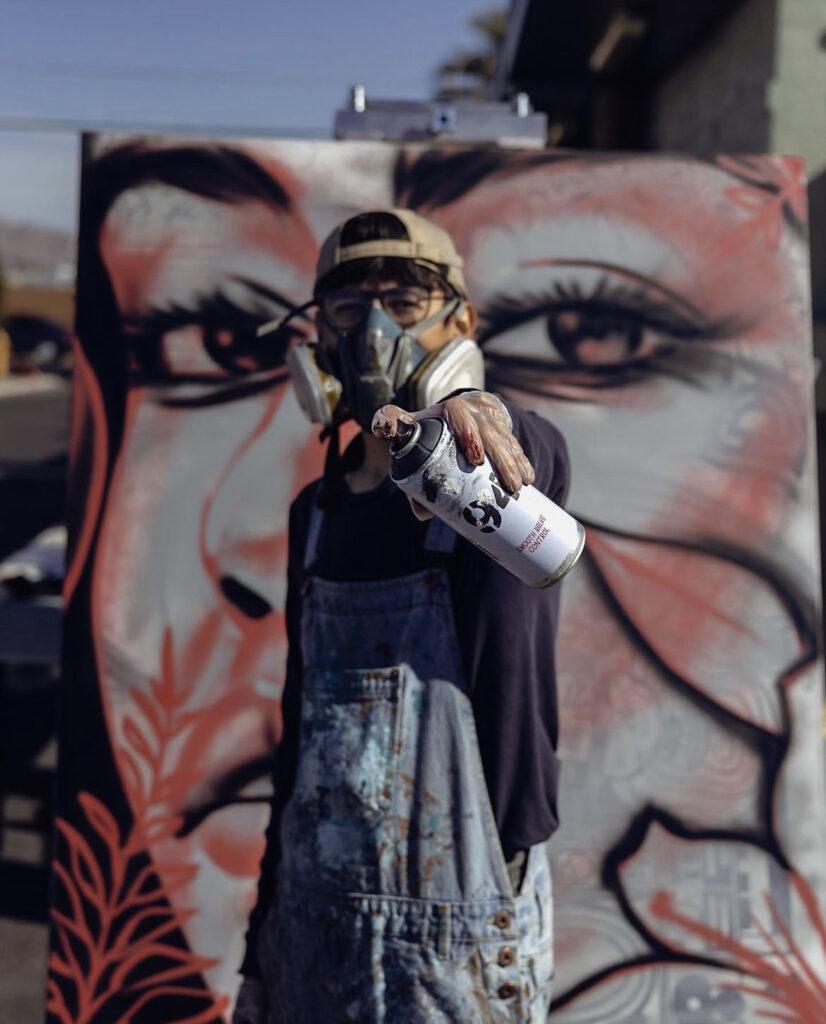 Juan Ochoa, The Latin Artist LLC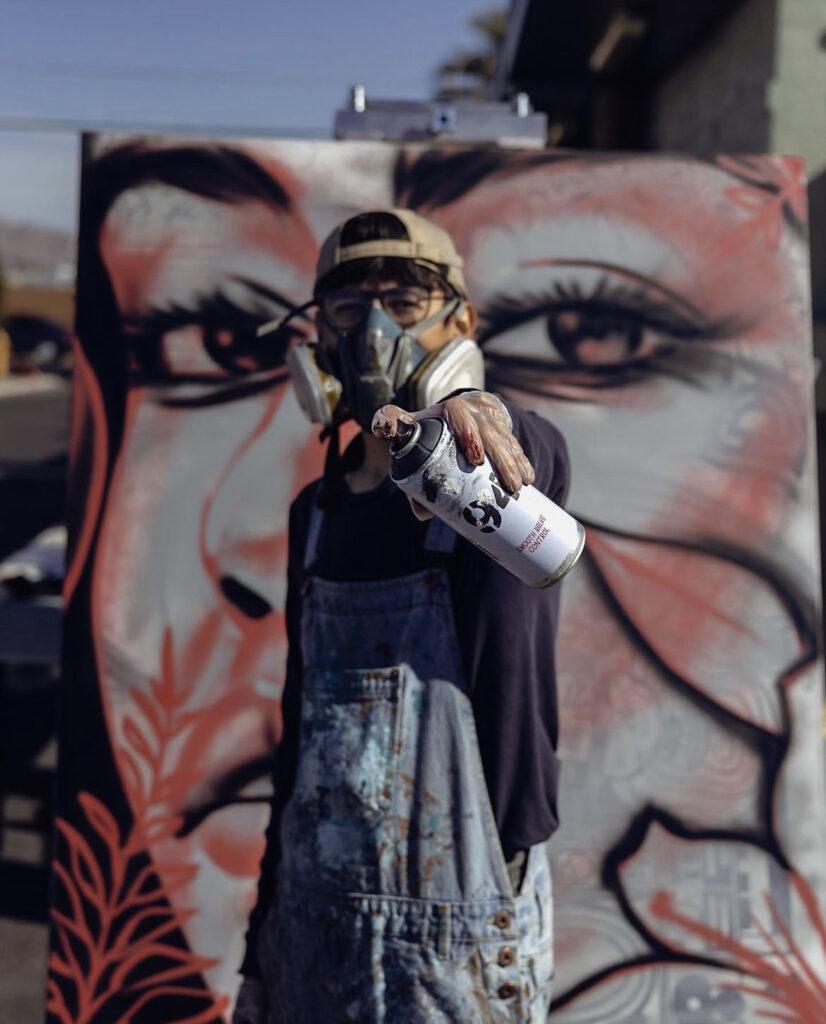 What is Structural Engineering?
PRACTICAL APPROACH
Innova Technologies is hands-on and proactive from concept to completion. Team brainstorming with consultants and contractors on project design concepts, construction methods and costs, and other project influences often times provides an approach to resolve scheduling or budgetary concerns before the project is designed. This has been our successful and practical approach.
CREATIVE SOLUTIONS
Innova Technologies focuses on innovation and creativity. Utilizing over 150 years of combined experience in engineering and construction solutions, Innova's engineers are empowered to think outside-the-box and solve your project's complexities.
CORE VALUES
Innova Technologies is driven by its commitment to its clients and employees with its core values: Integrity, Teamwork, Accountability, Quality, and Fun.
CERTIFICATIONS
Innova Technologies is a certified Disadvantaged Business Enterprise (DBE), Minority Owned Business (MBE), and Small Business Enterprise (SBE)
STRATEGIC PARTNERSHIPS
Innova Technologies builds and fosters win-win partnerships to forge cohesive and longstanding relationships. We are all stakeholders in each other's success.
Project of the Month
Red Rock Nielsen's Frozen Custard
The Red Rock Hotel and Casino, an iconic destination in Las Vegas known for its luxurious atmosphere, remodeled an existing Ben & Jerry's Ice Cream store into a delightful Nielsen's Frozen Custard destination. This exciting build-to-suit endeavor, in collaboration with KGA and Hatch, has brought a new culinary destination to life.
Innova played a vital role in this project by providing comprehensive structural engineering services from schematic design through construction administration. Our expertise ensured the successful execution of the design vision, contributing to the seamless transformation of the space.
Stay tuned for more updates on innovative projects as Innova continues to contribute to the success of remarkable ventures in the hospitality industry.
Ready to start your project?
Start where you are. Use what you have. Do what you can.
Join Our Weekly Newsletter