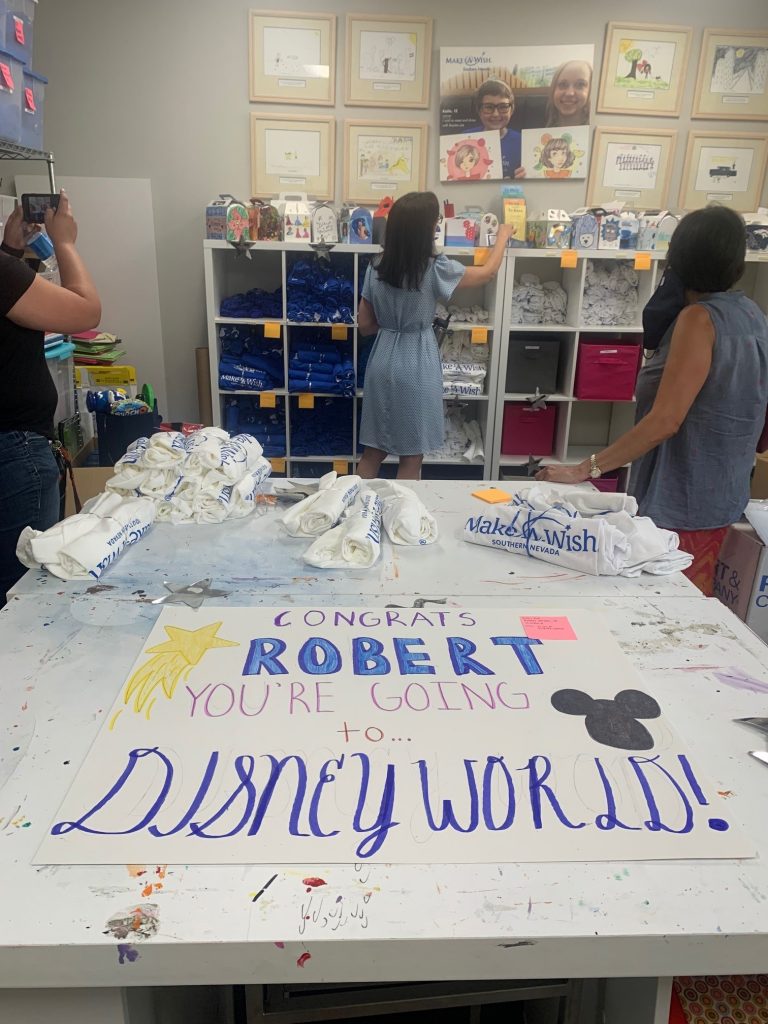 I

NNOVA VISITS MAKE-A-WISH OF SOUTHERN N

EVADA
On a sunny afternoon on July 9, 2021, Innova's Culture Committee had the opportunity to visit Make-A-Wish Southern Nevada. We were there to learn more about their office, The Wishing Place, to get an up-close look at the great work that the organization does and the lives it changes.
The company, founded in 1980, is the nation's largest wish-granting organization and has granted over 340,000 wishes for children with critical illnesses in the U.S. and its territories, with the Southern Nevada chapter, founded in 1996, granting over 2,200 wishes for children in the local community.
With the help of more than 30,000 volunteers, Make-A-Wish can grant those wishes, which in turn can help children build the emotional and physical strength needed to fight a critical illness and improve their quality of life.
The team observed the ways, large and small, that Make-A-Wish makes a difference. From the blue throne reserved for "wish kids" only, to the Wishes on the Progress wall, to the positive affirmations displayed throughout, to the arts and crafts room, making the center's open space concept warm and inviting.
Innova had many misconceptions when we first walked in. Mrs. Nina Radetich, the Interim CEO, gave us a guided tour of the facility.
She began by asking us what we knew of Make-A-Wish Foundation. We knew it was for sick kids who would get to go on trips to Walt Disney World or Disneyland Resorts, or other locations. Nina explained how a child becomes nominated by friends, family, teachers, nurses, or doctors.
They would then be reviewed and vetted by the national Make-A-Wish Foundation.
We learned that Wish kids are not necessarily terminally ill. That is a misconception that many have, which was true for a few years after the organization was founded. The eligibility criteria expanded long ago to allow doctors to use the wish as part of the medical treatment and healing process. A child must be at least two and a half years old and younger than eighteen at the time of referral to be eligible.
After being vetted, an invitation is sent. Each child visits Wish Family Room. This room, decorated like a cozy family living room, is where the child and a wish coordinator discuss the wish that would be best for that person. Many children come in and quickly state they want simple trips, like a trip to Disney. However, after meeting with the coordinators, kids often reveal their real wish. This helps Make-A-Wish to fulfill their true wish.
An example of this was when a young girl wanted to go to Disneyland but after sitting down and speaking with a coordinator, she expressed how much she liked the YouTuber Rosanna Pansino.
The Make-A-Wish staff quickly went to work and coordinated a special meeting with Rosanna. Together the child and Rosanna filmed a YouTube video and posted it! Instead of a quick trip to Disneyland, she had a memory she could relive over and over by just opening YouTube.
After the family room, we then toured a secret room behind Airport hangar doors. With interests piqued, we couldn't wait to go in and see what we would discover once inside. This all-important room is where kids will come after months of staff planning to find out about their wishes.
When the doors open, they will find friends, family, and volunteers, that explain how the wish will happen and come true.
There are many types of wishes that kids make. Some of the most common are: Wanting a new backyard makeover, to travel, to go on shopping sprees, to be a cop for a day, or to meet someone famous.
How can we help? There are several ways for companies and individuals alike to be involved with the organization. Companies can be corporate sponsors, while individuals can make donations or volunteer, or help introduce a wish.
If you are interested in learning more about the Make-A-Wish Foundation or want to donate or volunteer locally, contact them via https://wish.org/snv/.